Hey everyone!
Today, I have some mini arc reviews for you that have been long overdue. I'm blaming my friend for spending the day with me and talking about books and writing the whole time. Maybe I should meet up more often with people and discuss these things if I'm more inspired to write afterwards, it certainly helped me to stop procrastinate this time.
I received these books as review copies by the publisher. This however has no impact on my opinion.
---
Forest of a Thousand Lantern by Julie C. Dao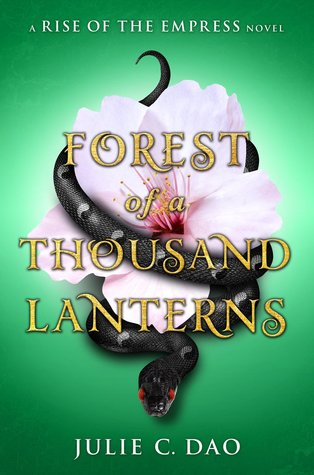 ★★★★
I finally, finally, finished it and I couldn't put it down for at least the first half of the book. I loved the take on the Evil Queen from Snow White in an Asian fantasy setting a lot and Julie C. Dao's writing style creates the perfect atmosphere for it.
What I forget to keep in mind was that we don't have the usual heroine in this novel. Xifeng, the main character, annoyed me more and more with her behaviour and actions throughout the book although this character development makes a lot of sense when one remembers that she is in fact the anti-hero. I'm quite intrigued to see how all of this will play out in the second book.
Rebel with a Cupcake by Anna Mainwaring
★★★★
The cover was what initially draw me to this book. You just simply can't go wrong with cupcakes and baking in my opinion. Jesobel is a wonderful, strong character that I hope many young girls who are struggling with their bodies can look up to.
It is quite relatable in the way it shows how one can be perfectly fine with their body and hating or beginning to dislike certain features the next day.  However, Mainwaring manages to portray this serious subject in an interesting way, keeping the reader engaged and adding an ounce of humour nonetheless.
That Secret You Keep by Brenda Benny
★★★
This one was a fast and enjoyable read. It has some great representation of gay and bisexual as well as POC characters although I personally wish that this diversity would have included more women. The author treated some rather serious topics in a light way, which perfectly fit with the overall tone of the book.
While I didn't quite connect with the main characters Max and Serena, I liked getting to know more bits and pieces of the side characters. There were a few things left open so they'll hopefully be answered in a sequel, otherwise I'd be quite disappointed with all my open questions towards the end.